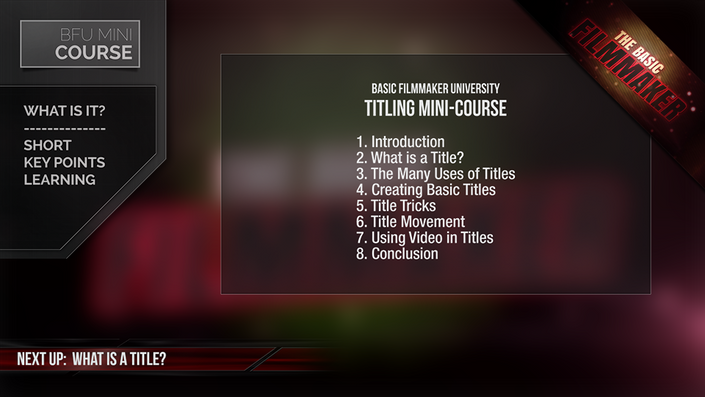 TITLE CARDS LOWER THIRDS & MORE
How to add titles to your videos, no matter what video editor you use.
Enroll in Course
WANT TO TAKE YOUR VIDEOS TO THE NEXT LEVEL?
Learn how easy it is to create and add title cards, lower thirds, watermarks, sidebars, and other elements to your videos using the tools you already have.
This FREE mini-course covers all the basics you need to move your videos up to the next level.
AUDIENCE:

Video Creators and Editors, Instructors, Educators, Online Course Creators, Filmmakers, YouTubers, Students
Here's What You Get
Title Cards, Lower Thirds and More
Available in days
days after you enroll

"Thank you! I was tickled to find out where the term "key frame" comes from. I realize now that not knowing that was bugging me, but not enough to go and look it up, but it makes so much sense, especially since we talk about "animating" titles.

"The other thing that for me was (or will be) very precious was the idea of creating a title and/or background image outside of the editor, developing it in Word or Google, then bringing it in. I use Final Cut X, but my computer is very unhappy (getting old) when creating titles within the program, so the idea of creating a .png somewhere else may give me some peace of mind. The wheels are turning.

"I like how you are very matter-of-fact, and you project the message not your ego. I feel I have learned a lot from your videos. I'm always looking forward to the next one!" -- Sigrid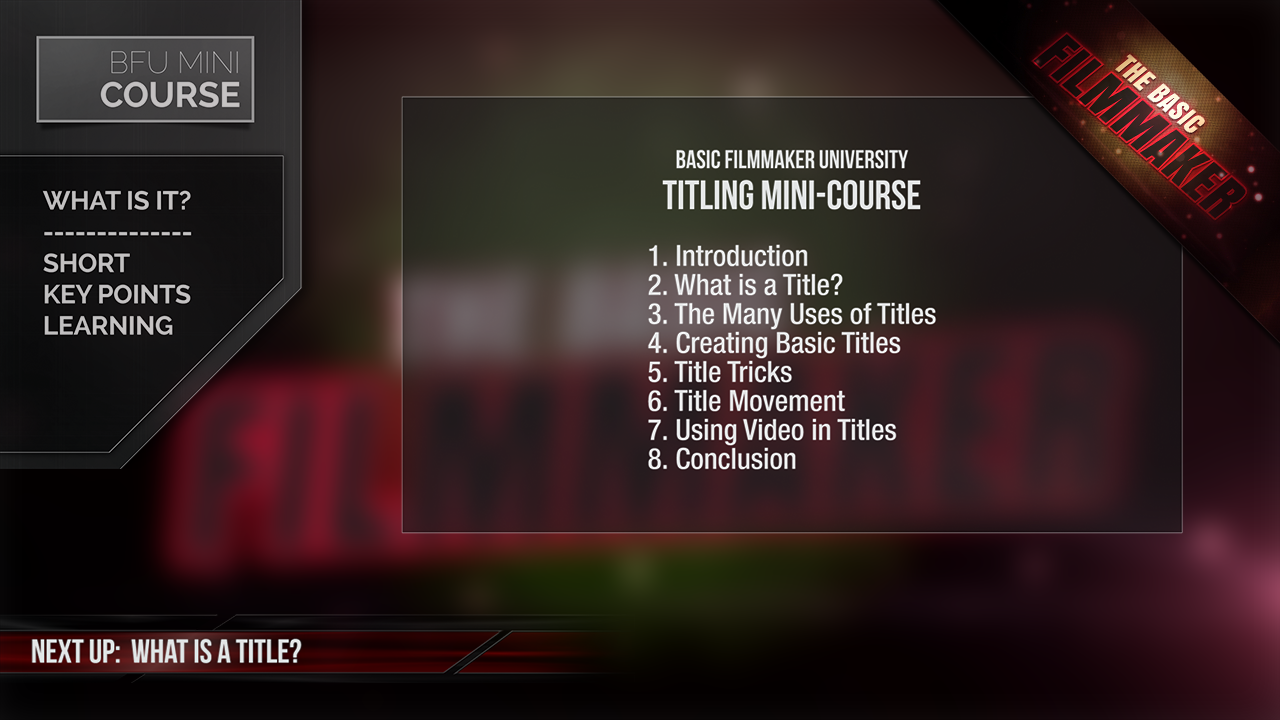 "Thank you so much for this great little course! You have helped to build a solid foundation for me -- so many other courses and tutorials start swimming half-way across the river you are trying to get over instead of at the dang shore you are departing from. Your teaching is simple, clear, and elegant." -- Phil

"This was a really well made and thought out basic course. Thank you. I wish there had been something like this a few years ago when I was first struggling to learn editing."

-- David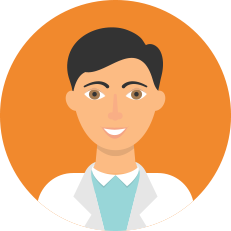 "I can't believe how much good information I picked up in a relatively short time. Thank you. I know I can put this to good use on my videos. I use Premiere Elements for editing and they don't make titles especially easy. I never would have thought about just creating images outside of the video editor and bringing them in. Thanks again. Well worth the cost of a couple cups of coffee. :)" -- Gene

"OMFG! I am half way through taking this free title course and no longer want to kill myself. Thanks for saving my life lol. This is a simple, straight forward and quality course. I can only imagine how awesome the paid content is (which I will purchase as soon as I can) I most certainly recommend and thank you Basic Filmmaker for taking the time to do this." - Athena
Your Instructor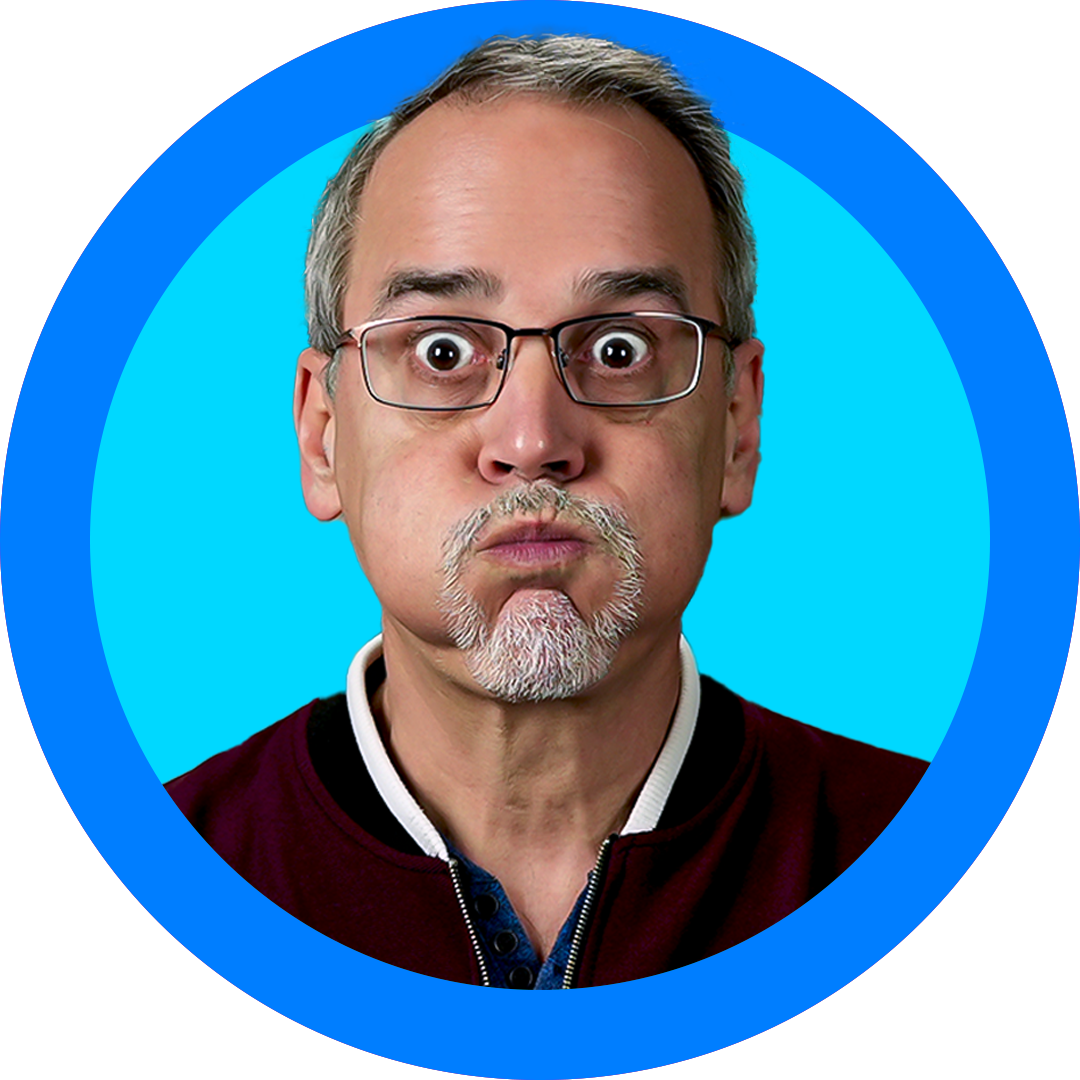 HELLO!
I'm Kevin, and many know me as the "Basic Filmmaker".
I'm more interested in what other people have to say than talking about myself, but if you must see some creds then GO TO THIS PAGE for a bio about me.


Otherwise, let's carry on and get some learning done.


Kevin - Basic Filmmaker
Other Free and Paid Courses